Management Team
Samuel Salen, M.D.
Chief Executive Officer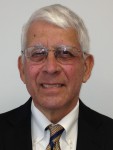 Dr. Samuel Salen is one of the original founders of Onrad and served as CEO previously from 2006-2012 before returning to the position of CEO in 2016.  He served as a Captain in the US Air Force Medical Corp. He completed his undergraduate work at Temple University and earned his medical degree at Thomas Jefferson University Medical School. Dr. Salen has held Executive Leadership roles at MSB Radiology Medical Group, Renaissance Radiology Medical Group and Innoserv Technologies Inc.
Alix Vincent, M.D.
Chief Medical Officer

In addition to his position as Chief Medical Officer at ONRAD, Dr. Vincent is also the CEO of ONRAD Medical Group, where he played an integral role in designing the company's PACS and RIS network capabilities. Dr. Vincent has a B.S. in Chemistry from Southern College in Collegedale and completed an M.D., internship, residency and Fellowship in Neuroradiology from Loma Linda University in Loma Linda, CA. He also holds a Certificate of Added Qualification in Neuroradiology. Dr. Vincent is certified by and a Diplomat of the National Board of Medical Examiners and the American Board of Radiology.
Are you ready to learn more about working with ONRAD?